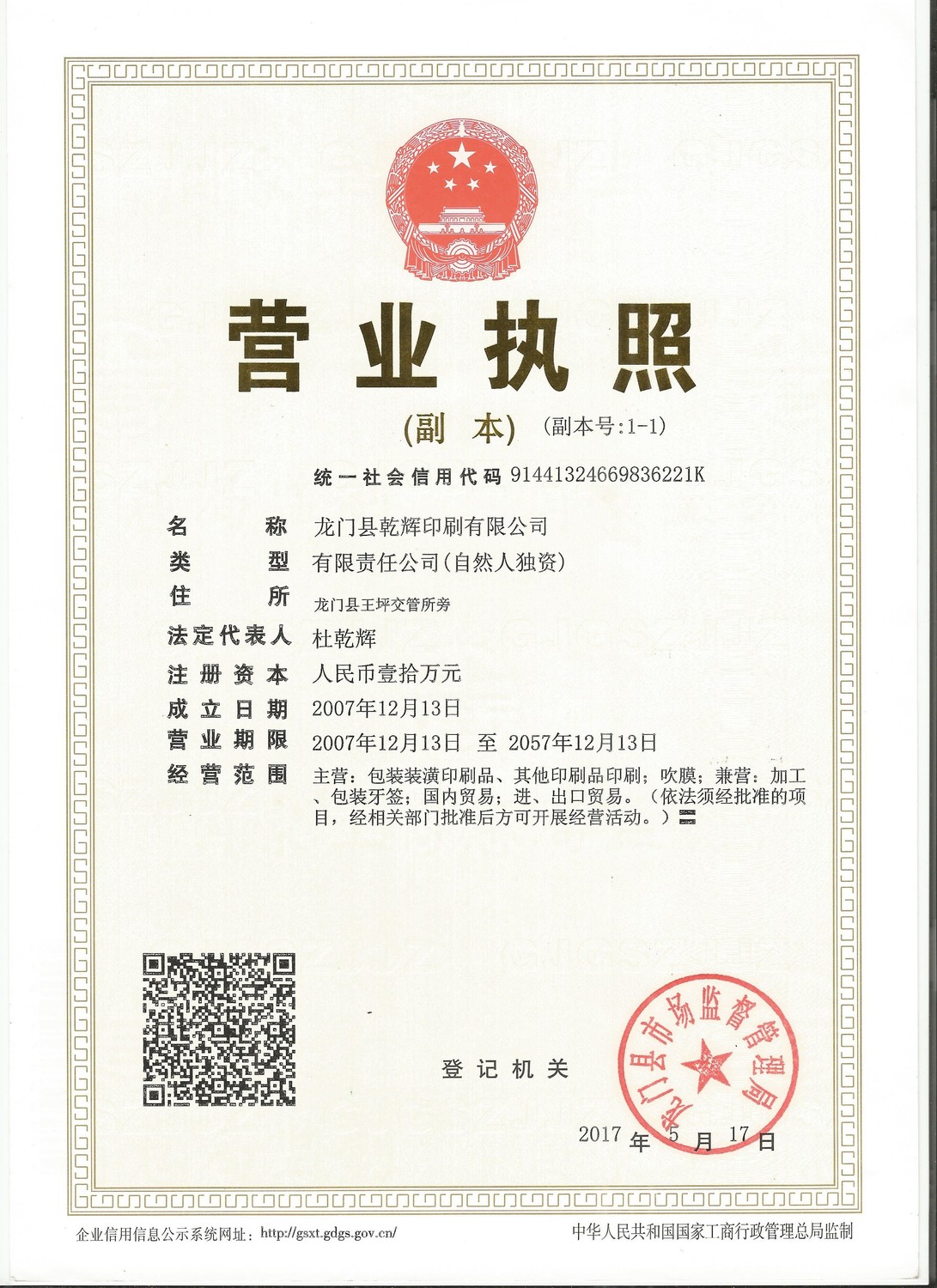 Business license(Chinese-English translation)
企业法人营业执照
BUSINESS LICENSE OF THE ENTERPRISE LEGAL PERSON
(副本)
(Counterpart)
注册号
Registered Number: 91441324669836221K

名称 龙门县乾辉印刷有限公司
The Enterprise Name: Longmen County Qianhui Printing Co.,Ltd.
住所 龙门县王坪交管所旁
Address: Wangping next to thetraffic control, Longmen county, Huizhou City, Guangdong Province, China
法定代表人姓名 杜乾辉
Person In Charge:DU QianHui
注册资本 人民币壹拾万元
Registered capital: RMB 100,000
公司类型 有限责任公司(自然人投资或控股)
Business Type: Limited LiabilityCompany (Natural investment or holding)
经营范围主营:包装装潢印刷品、其他印刷品印刷;吹膜;兼营:加工、包装牙签;国内贸易;进、出口贸易。(依法须经批准的项目,经相关部门批准后方可开展经营活动。)
Scope of Management: Main managementprojects: packaging and decoration printed matter, other printed matter; blown plasticfilm; Balance management: processing & packaging toothpicks; domestictrade; import and export trade. (Projects subject to approval according to lawmay be subject to business activities after approval by relevant departments.).
成立日期 2007年12月13日
Date of Set-up: December 13, 2007
营业期限2057年12月13日
Businessterm: To December 13, 2057
须知: Notice
1.《企业法人营业执照》是企业法人资格和合法经营的凭证。
1. BUSINESS LICENSE FOR ENTERPRISE LEGAL PERSON is the certificate of thequalifications of enterprise legal persons and its legal operations.
2.《企业法人营业执照》分为正本和副本,正本和副本具有同等法律效力。
2. BUSINESS LICENSE FOR ENTERPRISE LEGAL PERSON is divided into an original andduplicates, both of which enjoy equal legal effect.
3.《企业法人营业执照》正本应当至于住所的醒目位置。
3. The original of Business License of Enterprise Legal Person shall be laid upin an eye-catching place of the domicile.
4.《企业法人营业执照》不得伪造,涂改,出租,出借,转让。
4. BUSINESS LICENSE FOR ENTERPRISE LEGAL PERSON shall not be forged, altered,let out, lent and assigned.
5. 登记事项发生变化,应当向公司登记机关变更登记,换领《企业法人营业执照》。
5. Any change in the registered items shall be registered with the companyregistration authority so as to replace the BUSINESS LICENSE FOR ENTERPRISELEGAL PERSON.
6. 每年三月一日至六月三十日,应当参加年度检验。
6. Annual examination shall be conducted in every year from March 1 throughJune 30.
7.《企业法人营业执照》被吊销后,不得开展与清算无关的经营活动。
7. No business activity relating to the liquidation may, after therevocation of the BUSINESS LICENSE FOR ENTERPRISE LEGAL PERSON, be conducted .
8. 办理注销登记,应当交回《企业法人营业执照》正本和副本。
8. To cancel its registration, the company shall have the original copyand duplicates of BUSINESS LICENSE FOR ENTERPRISE LEGAL PERSON returned.translation by legaltranz.com
9.《企业法人营业执照》遗失或者毁坏的,应当在公司登记机关指定报刊上声明作废,申请补领 .
9. Should BUSINESS LICENSE FOR ENTERPRISELEGAL PERSON be lost or damaged, the company shall announce it invalid in thenewspaper and periodical designated by the company registration authority, andshall apply for an reassurance. translation by legaltranz.com
10.国家企业信用信息公示系统(中国)
10.National Enterprise Credit InformationPublicity System(China)
http://www.gsxt.gov.cn/